Are You Looking To Buy A Home?
Have you been longing to own your own home, or maybe just a different home? Why not look into a mobile home? There used to be all kinds of stereotypes about living in mobile homes, but times have changed. They now have luxurious interiors that normal homeowners are jealous of, such as large open kitchen and living areas combined, french doors, large master baths, and more.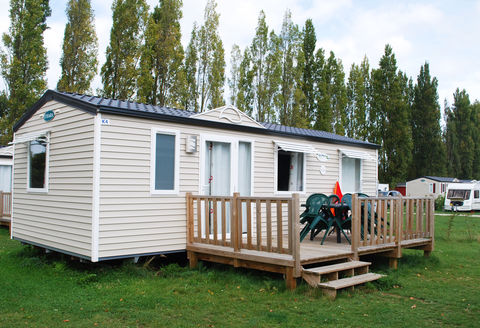 New mobile homes cost a fraction, of having a stick built home constructed. Mobile homes can be placed just about anywhere, and if you decide you don't like the area, you can have it moved to a new piece of land. There are some drawbacks to buying a mobile home and placing it on land. Some pieces of land have restrictions of stick built homes only. however, there is usually id usually some places in the general area of where you want to live, where you can place one.
Mobile homes come in many different sizes and shapes. There are single wides, double wides, and even triple wides now. So if you have a growing family, just choose a larger one, with a living, and family room. These homes are constructed much better than prior to 1975. However, when it comes to a tornado or hurricane warnings, you still need to evacuate.
When purchasing a new mobile home from a dealer, make sure they are licensed in the state to sell such mobile homes. They should also provide contracts which explain how to handle problems if they should occur, as well as warranties. It should have the total price of the purchase, including deposits, held in escrow.
Mobile home communities are now starting to gain in popularity now. These are not considered "trailer parks" just communities. They have always been popular in states like Florida, Arizona, and Texas for retirees. Now there is a new trend for families. too, and are located all over the country. These communities feature well-manicured lawns and nice roads. They usually have pools, parks, playgrounds, and walking areas. Some will even have a community clubhouse, that can be used for private parties or community events.
Living in a community is a great idea for families, as well as elderly people. Elderly people can take comfort in knowing, that someone is near, should they need assistance. Families like it, because there are other children nearby for the kids to interact with. Many communities are now located close to schools and shopping, or along bus routes for those without transportation.
If you live in Michigan, particularly in the Willis area, you can do an internet search for mobile homes for sale in willis. You can look for communities or those that are not in communities. When you move in community development, there are usually monthly fees, as you don't own the land that it sits on, just the home. The charges are for community maintenance. They can range anywhere from $200 on upwards up $600, depending on the community amenities.
The newer communities now have options where you can rent to own. With this option, the lot rent or community maintenance fee is usually included in the rent to own, or purchase cost. One such place that offers mobile homes for sale in Willis, is Augusta Woods. They offer rent to own and purchasing outright.
Augusta Woods is so successful, that they are opening phase II. These homes start at $49,000 and can go as high as $99,000. This place has a clubhouse, swimming pool, playground, picnic area, and even banquet rooms with kitchen facilities. Hurry up and get yours today!