Keith and Diane Culver's home on the east shore of Spirit Lake is a warm, welcoming space where they love having friends and family gather.
"That's just who they are," said their daughter, Emily. "Mom and dad love people. One way they show that love is by welcoming you into their home and sharing that space."
"Friends and family have always been an important part of who we are. Keeping that connection is just part of our lives, I guess," Keith added. "We just like to bring people together."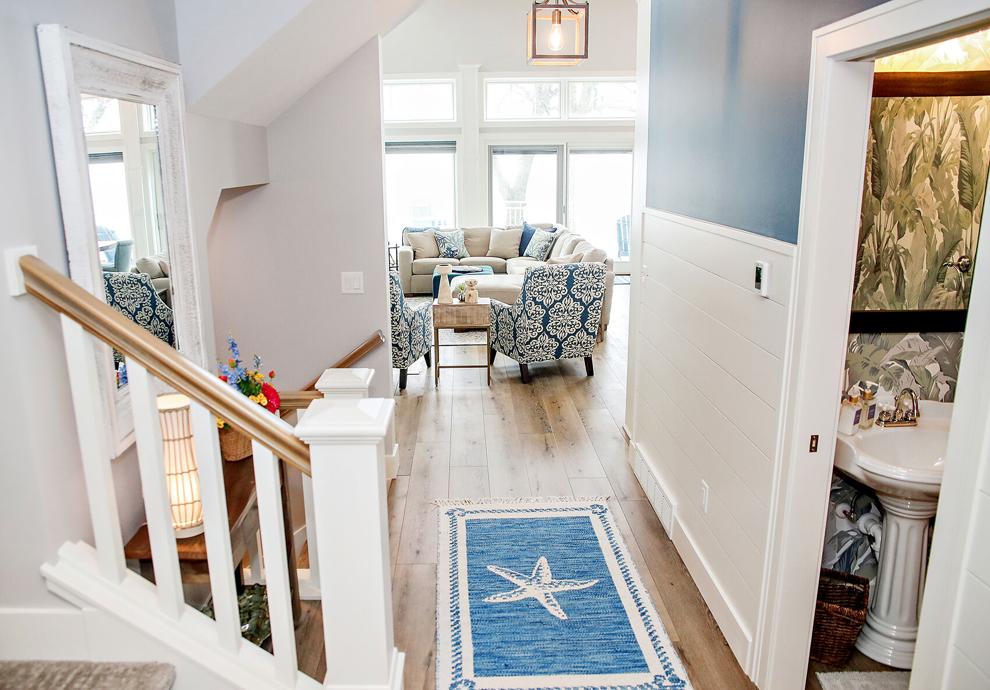 And their new home on Spirit Lake was designed to do just that.
They fell in love with their spot on Spirit Lake and bought it in 2014, but realized after living in the house on the lot for a few years that they needed to do some updating.
"We loved this spot on the lake. It has a low lake approach and across the street was open with the walking path right there," Keith said. "It just felt really right and we loved the neighborhood and the neighbors."
Their plans to remodel eventually morphed into a plan to tear down the old house and start fresh after working closely with designer Jane Hummel and 3D Builders.
"After living here for five years, we kind of knew what we wanted," said Keith. "We knew we wanted to tie in the design elements from the beginning as well as working with the functional elements so we formed a partnership between Jane Hummel, 3D and us, early on, just to make sure we tied it all together. It's a big space so it was a big challenge, but we owe a lot of the credit to them. They were amazing to work with."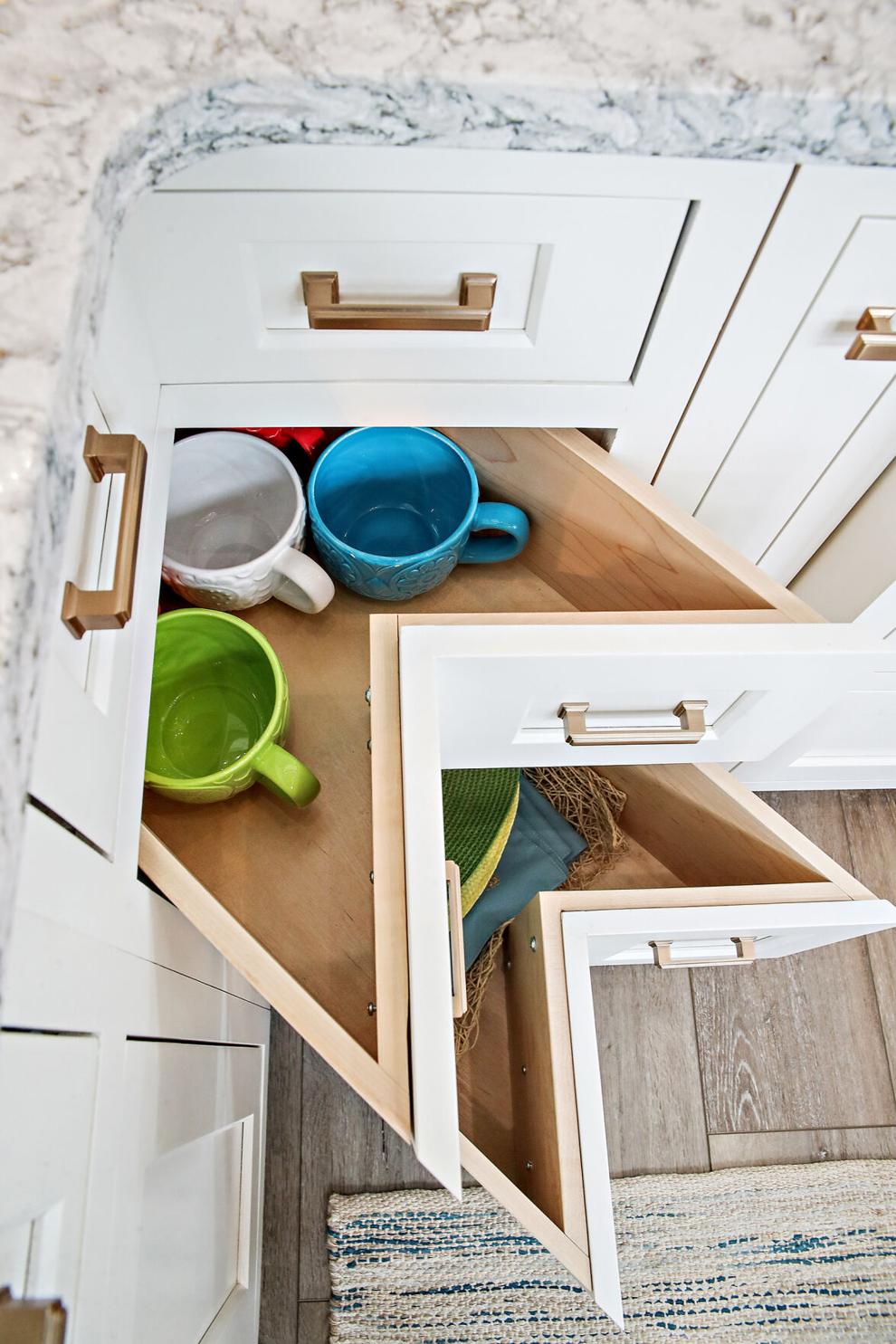 The original lake home featured an open concept, which was one design choice they were determined to keep.
"We wanted the kitchen open to the living room and to the dining room so that everybody could interact and be with each other while you were cooking or whatever. I love that part," Diane said.
"We did the open railing for the upstairs so that you can look down and have that open feel," Keith said. "We didn't want a wall there so that it would feel cut off from the rest. We wanted it all kind of open so that everyone's included."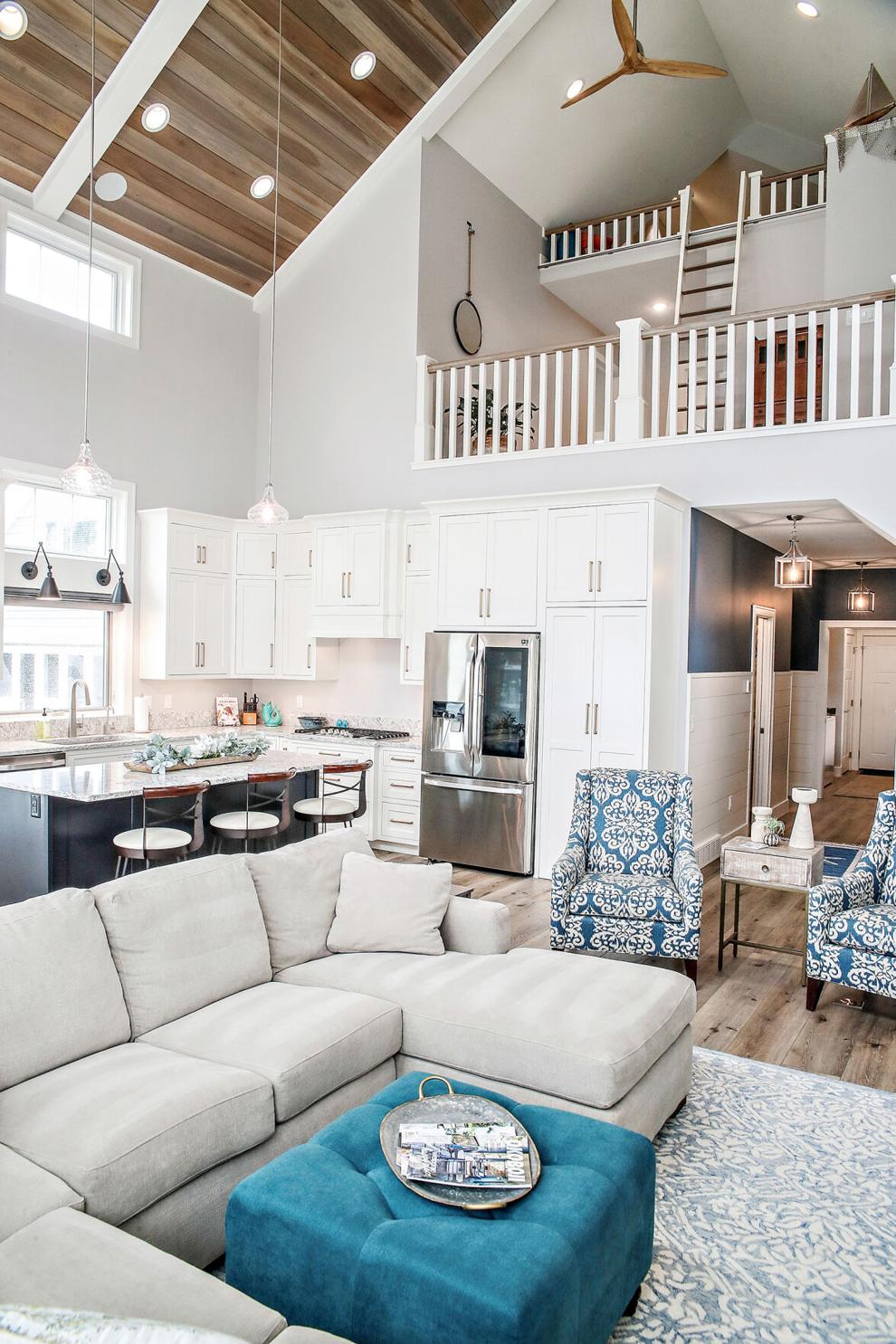 The open concept is just one of the design choices they made with an eye toward entertaining their friends and family. The welcoming atmosphere starts right when you open the door.
A soothing lake color palette of grays, blues and whites can be found throughout the home to lend a continuity to the space. White shiplap lines the walls of the entrance to add to the cozy feel.
The main living area features soaring ceilings of 25 feet, but while the room feels grand it still manages to remain very comfortable. The ceiling features beams and poplar planks that both add visual interest and ground the space. More comfy feelings emanate from the gas fireplace.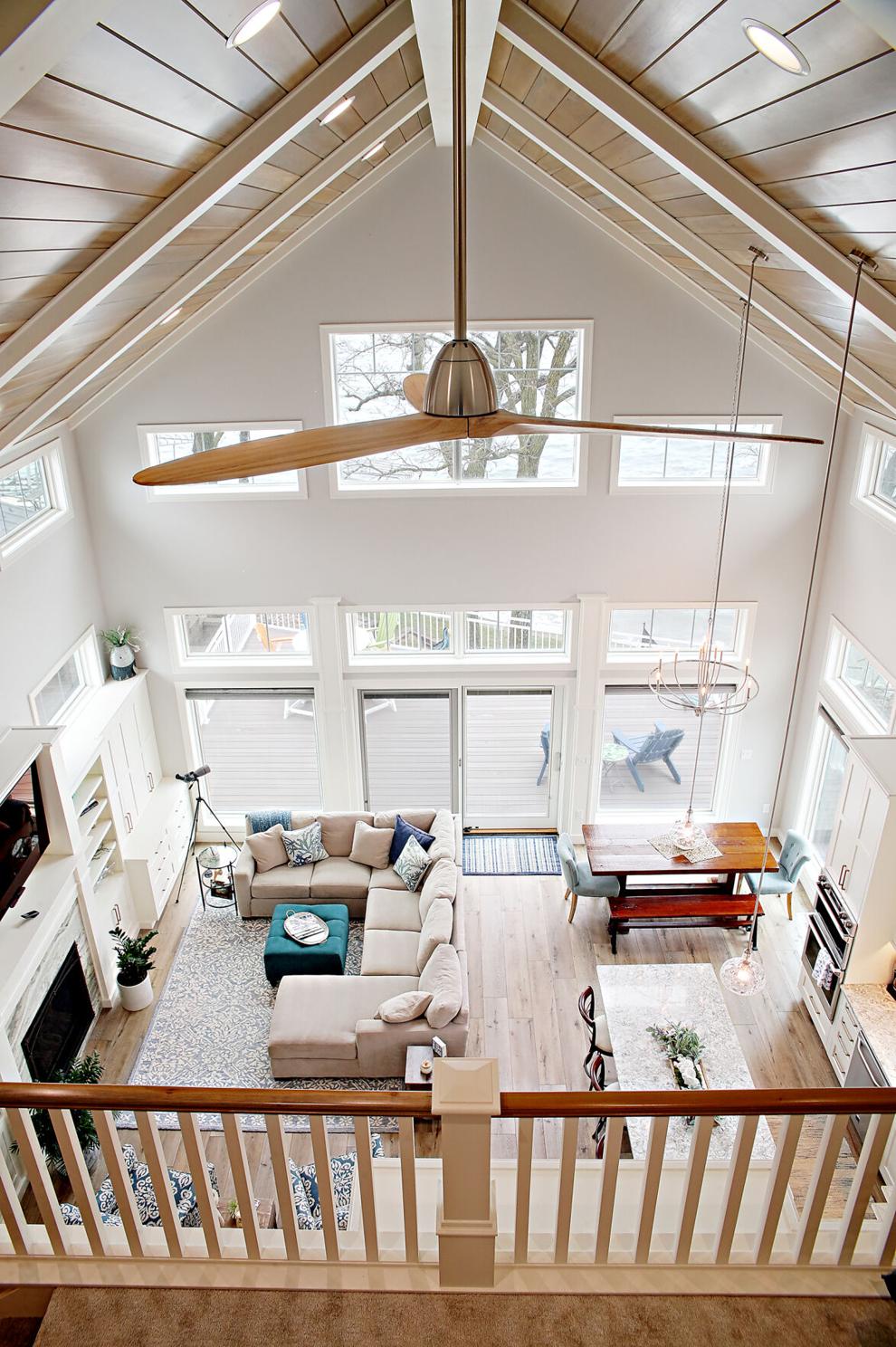 One idea that the owners wanted implemented especially in the main living area was an entertainment space made to look like built-ins on one side of the fireplace. The space is complete with a pullout fridge for beverages to allow for ease of guests to serve themselves and to free up space in the kitchen's refrigerator.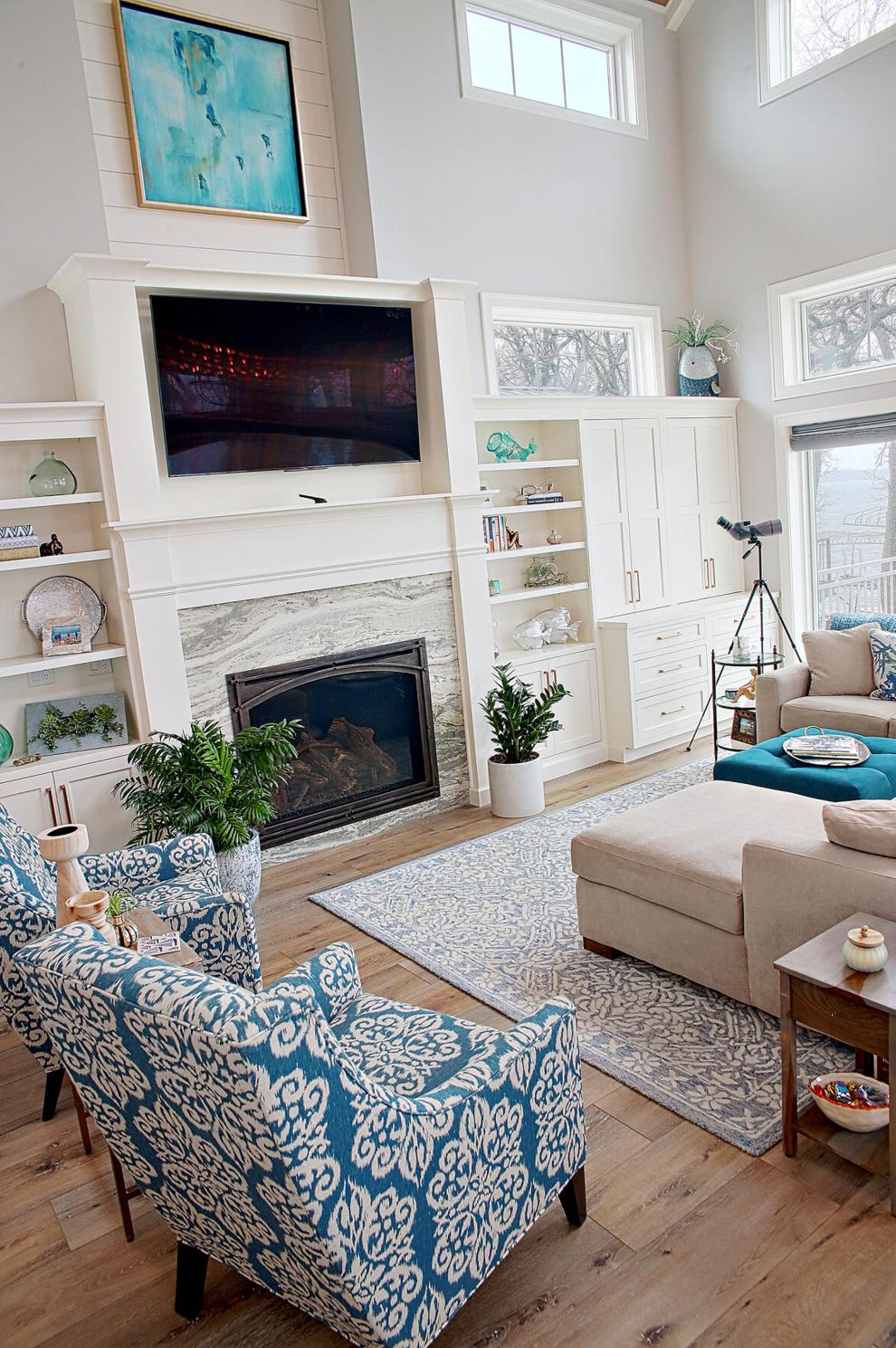 A wall of windows brings the outdoors right inside and opens up onto the upper deck area.
While they are still in the process of selecting all the right artwork to hang in their home, one piece that has pride of place above the fireplace was custom painted by their daughter, Lexi, and is titled "Water Spirits," and features an abstract aerial view of the Iowa Great Lakes.
The kitchen is fresh and bright complete with white cabinets and Cambria countertops. The main island helps ground the space as it is painted a dark gray color.
The rest of the main floor consists of a half bath for guest, a laundry/mud room and the master suite.
The master features its own bathroom and, in fact, every bedroom has its own bathroom. That was another must the owners learned after spending five years sharing their master bathroom.
"There are never enough bathrooms," Diane said with a laugh. "Everyone comes in from swimming and everyone wants to take a shower right away. It's just so much easier this way."
The upstairs of the home features two bedrooms complete with en suite bathrooms as well as a special bonus area.
A ladder leads up to a large loft that can serve as an extra space for guests to hang out or sleep.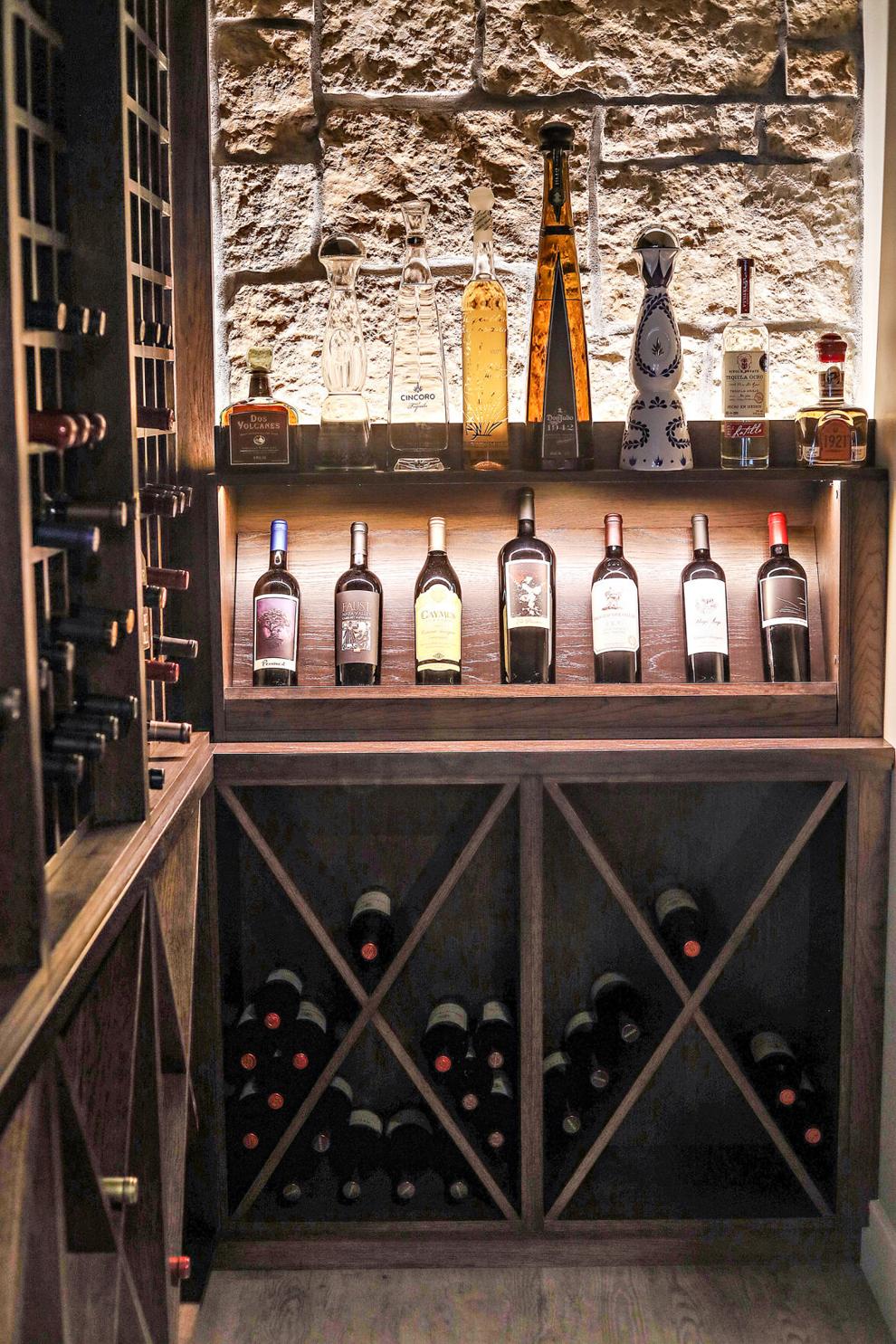 The basement features a den space, storage room, an extra bedroom and bathroom and a beautiful wine room that is temperature and humidity controlled. The lighting is dramatic and the space is special, and Keith credits local cabinet maker Dale Vortherms, with creating the beautiful space.
The couple moved into the home in July 2020, and both are enjoying their new space.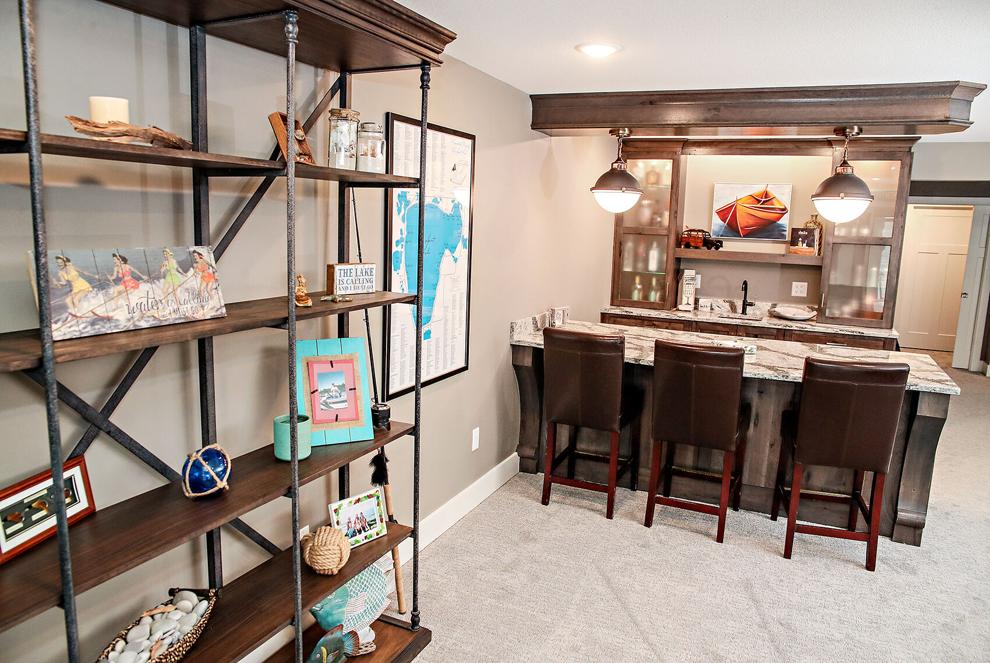 Having a home on Spirit Lake is the fulfillment of a long held dream for the couple. "It's been a journey of at least six or seven years, but before that we would come and get on our boat and we'd just toodle around the lake looking and saying, 'Oh, you think we could ever have a home here?'" Diane said. "It's just been our dream."