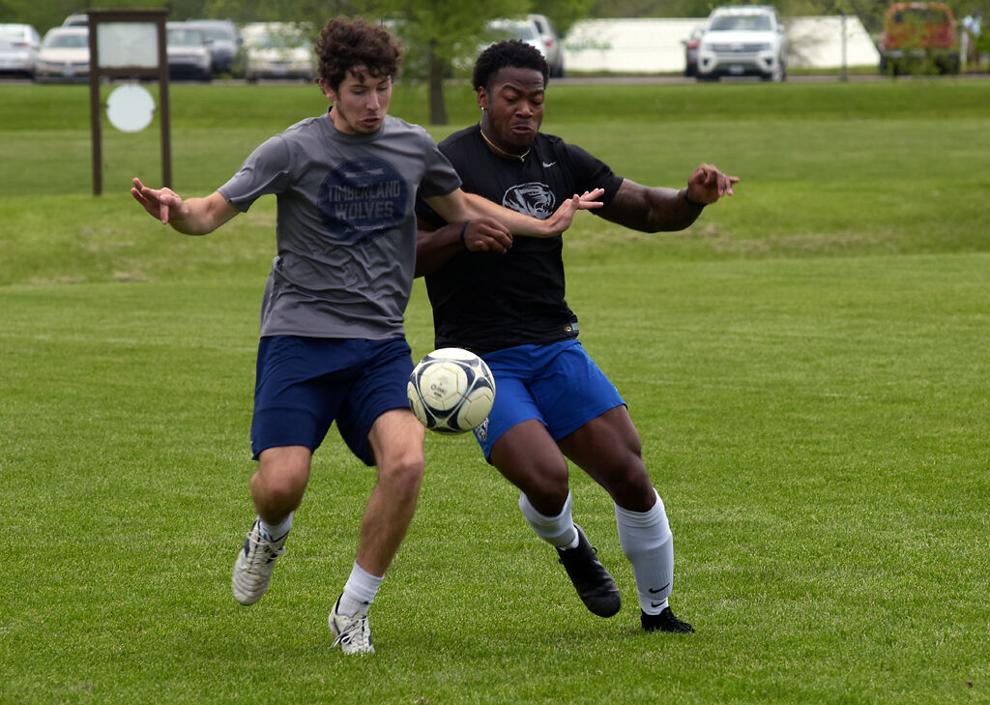 On a gray afternoon last Sunday , men in their early 20s to mid-40s ran up and down a mostly unmarked soccer field at Cosmo Park, sporting T-shirts in mismatched shades of blue denoting them as teammates. Some of them had met for the first time that day, joining club veterans who have been involved with the team since its inception in January 2020.
They were AFC Columbia, and it was their second-ever preseason outdoor match in the Columbia Premier International Soccer League.
Club president Zach Fisher stood out among the bunch in a bright yellow MU hat. During the match, he was everywhere: chasing down rogue soccer balls, calling for substitutions, meeting new players. He is involved in every level of the club he helped create.
He even drew the logo, which was printed on his light-blue tee. Two eagles flank the center of the symbol, one meant to face Kansas City and the other St. Louis. Two lines form wings, representing the Missouri River and Flat Branch Creek. Rows on either side stand for the fields surrounding the town. The shield with "MO" in the middle is a fitting symbol for a startup soccer team that seeks to become "a club for Columbia."
Fisher moved to mid-Missouri in November 2019. He was excited to find a thriving community of soccer fans in the area sandwiched between two of the country's more soccer-friendly cities in Kansas City and St. Louis. Successful men's soccer programs at Columbia College, William Woods University, Westminster College and Central Methodist University were also a plus. Fisher saw mid-Missouri as the perfect place for a club soccer team to compete in a bigger league — and yet there was none.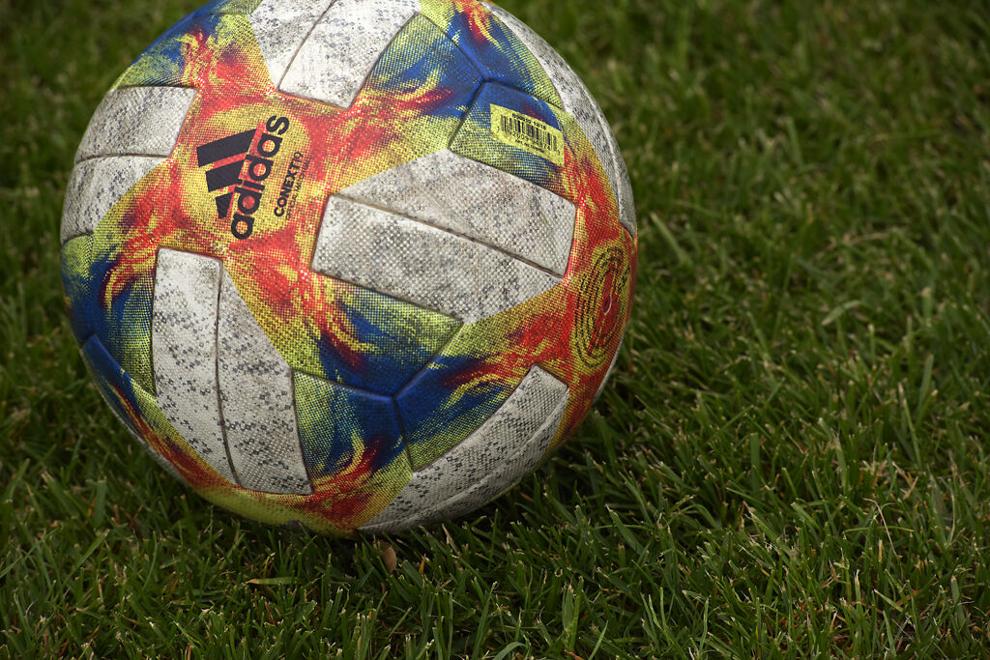 "When (players) graduate from these schools, there's nothing for them," Fisher said. The rosters of the other clubs — spread throughout the Midwest in states like Kansas, Iowa and Illinois — were filled with men notably older than the average college graduate. "All their players are 24 to 27. That's one of the biggest gaps in American soccer, is once they're done with college."
Through the active lower-league soccer community on Twitter, it was clear to Fisher that the players were out there, there just wasn't a team for them to play for — yet. He connected online with fellow soccer fan and now-club secretary Grant Sundberg. The two decided to take it upon themselves to "fill the void" of club soccer in mid-Missouri, and AFC Columbia — AFC stands for Association Football Club — was born.
Fisher is an associate director of marketing with MU Athletics. Other club leaders and players are college students or work for city departments. One player works at Supplement Superstore and serves some teammates as customers. The club is a passion project; Fisher said no one gets into lower-league soccer to make money. When he's not at work or taking care of his 4-year-old and 9-month-old sons, he's thinking about AFC Columbia. On his drive home from work, he listens to a podcast that gives advice on running small clubs. He hosts meetings for club members at Logboat Brewing Company, International Tap House or his own home.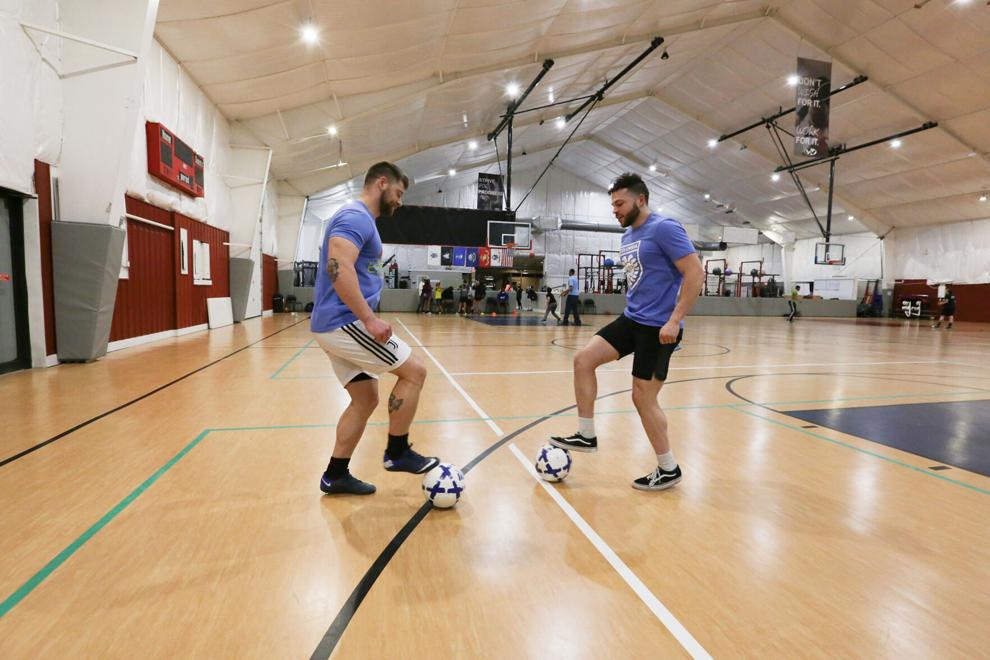 "That's kind of the beauty of these things," Sundberg said. "You have these very common, ordinary people that are doing this because they love to do it and because they just love soccer."
Fisher wasn't always one of those people. His high school didn't have a soccer team. He wanted to be a football coach and worked at the University of Tennessee-Chattanooga as an undergraduate assistant with the football team in 2007. It wasn't until he served in the Marine Corps from 2009-13 that he fell in love with soccer.
Fisher's roommate in Washington, D.C., was a diehard soccer fan. So when his friends received free tickets in the supporters section at a D.C. United game, Fisher tagged along. There, he got hooked on the game.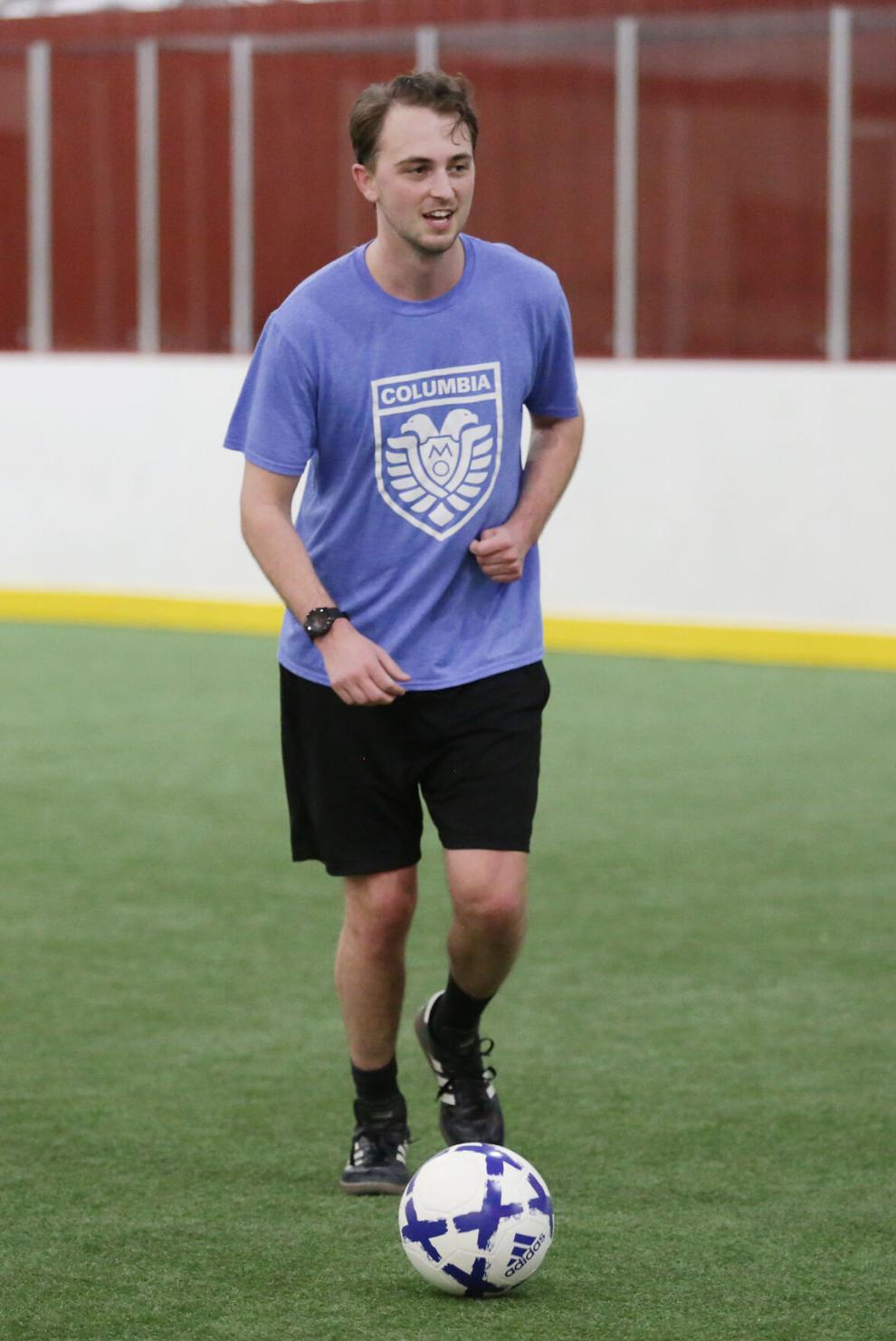 When he went to college at Wingate University in North Carolina, he spent some of his free time playing the video game FIFA, which was how he got interested in European clubs. When he took his first job in Florida after receiving his masters degree from the University of Tennessee, Pensacola FC was his first exposure to American lower-league soccer and solidified his resolve to build his own club.
A shared passion for soccer is what has brought AFC Columbia's players and club leaders together. Their GroupMe chats are full of club business and soccer smack talk about their favorite teams. Fisher, a Chelsea supporter, joked that the club will accept everyone, with the exception of Arsenal fans.
Some of the members, like Fisher, were never players. Others have been playing since they were kids.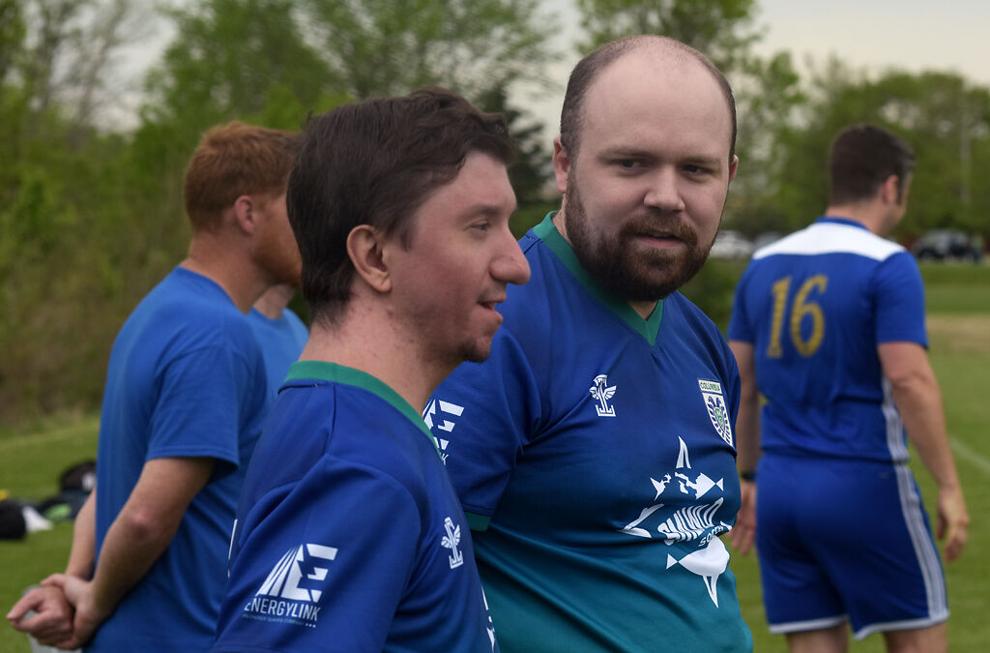 Tyler Drew played for four years at CMU before graduating in 2019. In the two years since, he's been trying to play whenever and wherever he can in the area. Director of Operations Bridger Pretz, who played soccer at William Woods and now coaches boys and girls soccer at Fulton High School, recruited Drew. They knew each other from playing at rival high schools, Drew at Boonville and Pretz at Moberly. So when his former opponent asked if he'd play on an indoor team this past winter for AFC Columbia, Drew jumped at the chance.
"I don't know anybody that would say no," he said. "To be honest, I needed this. I don't think about anything else when I'm out there. … Work doesn't matter. Your personal life doesn't matter. You just go out there and play. And that's what it's always been about for me."
Ethan Roth, another indoor team member, played soccer at Moberly High School and later at William Woods. But even when he served in the Marine Corps from 2014-18, soccer remained. Roth joined the Armed Forces team, which is made up of players from each branch of the military. Roth and the team played everywhere from Texas to Japan.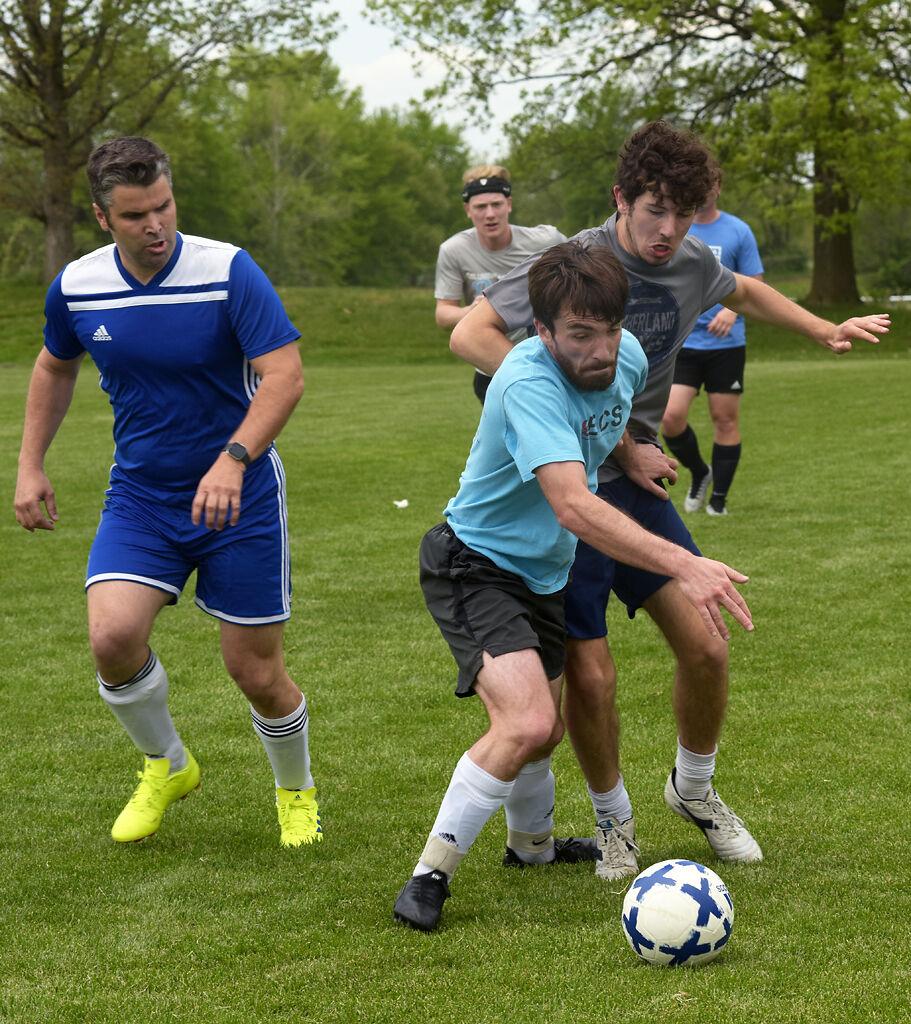 Since returning to Missouri, Roth has played in local outdoor leagues to stay involved with the game. Like Drew, Roth was also recruited to AFC Columbia's indoor team by Pretz, who played at William Woods in 2015 and 2016.
"To help build the club from the ground up is really cool to be a part of," Roth said. "Anytime we have games, anytime we play, I'll be here. (Fisher) does a lot of administration stuff. He works hard on that part. So I figured, the least we can do is show up and try and win."
Before playing in the CPISL, AFC Columbia played indoor 5-on-5 matches at the MAC from January through March. They fielded a team of players from around mid-Missouri, many of whom played soccer in high school or college. After their school playing careers ended, they ended up in that gap Fisher said exists in American soccer.
The indoor league was casual; AFC Columbia played against squads sponsored by realtors or with punny names such as "Balotelli Tubbies." Goals didn't sail into the net with a satisfying swish; they smacked against the wall with a bang that echoed through the gym before bouncing back onto the turf-covered hockey rink that served as a playing field. Sometimes, the game time changed at the last minute. Other times, the opposing team wouldn't show up, and AFCC ended up playing half-field 2-on-2 with one keeper.
"You know in Rocky III, how he just wears him down?" Drew taunted Roth during one such intrasquad game. "That's what I'm doing to you."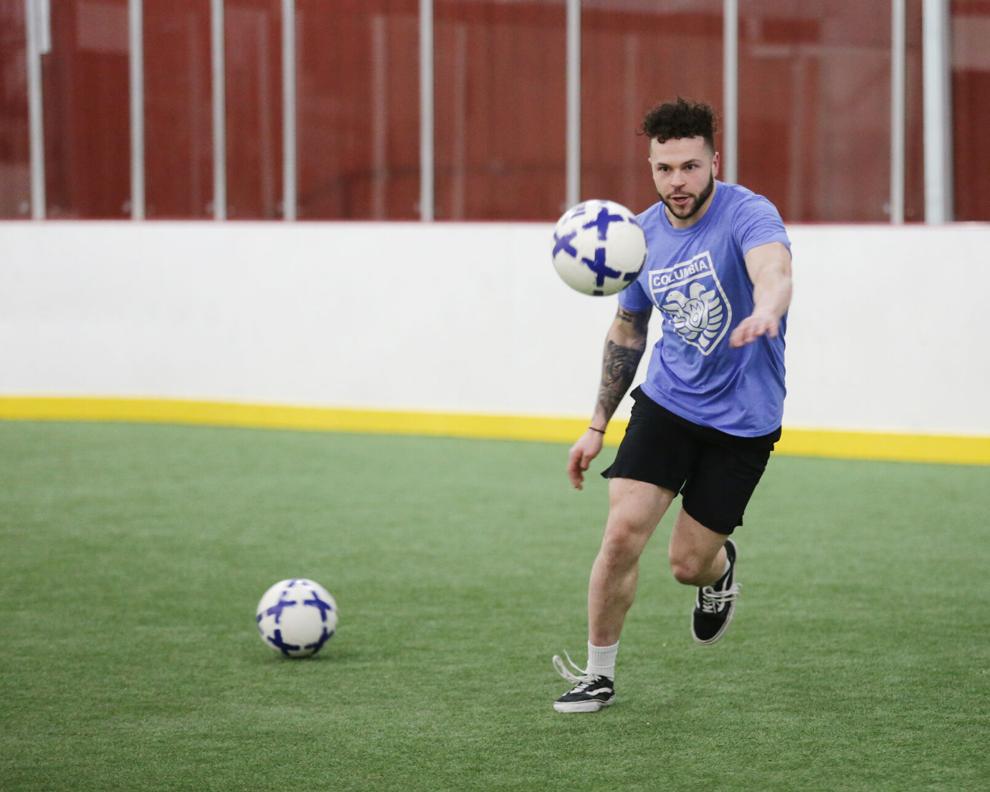 Scheduling hiccups aside, Fisher said the indoor league helped spread the word about AFC Columbia, both to potential players for the eventual outdoor team and possible sponsors for the club.
"We had one guy that was on a different team that was like, 'My friend's family owns this business. They're from Greece and they're huge soccer fans,'" Fisher said. "It may seem kind of silly playing indoor 5-on-5, (but) that's what makes it worth it."
Those interactions are a huge part of getting the club off the ground. Some more established clubs have built-in connections that have helped them through the pandemic. People want to get to know the faces behind the club, and Fisher said talking soccer on Zoom just isn't the same as getting soccer-lovers together for drinks.
"We would love to be out there in the community hosting U.S. men's national team watch parties, helping local leagues, volunteering, youth clinics, things like that," Fisher said. "It's just something we can't do right now, and that's really been slowing our progress."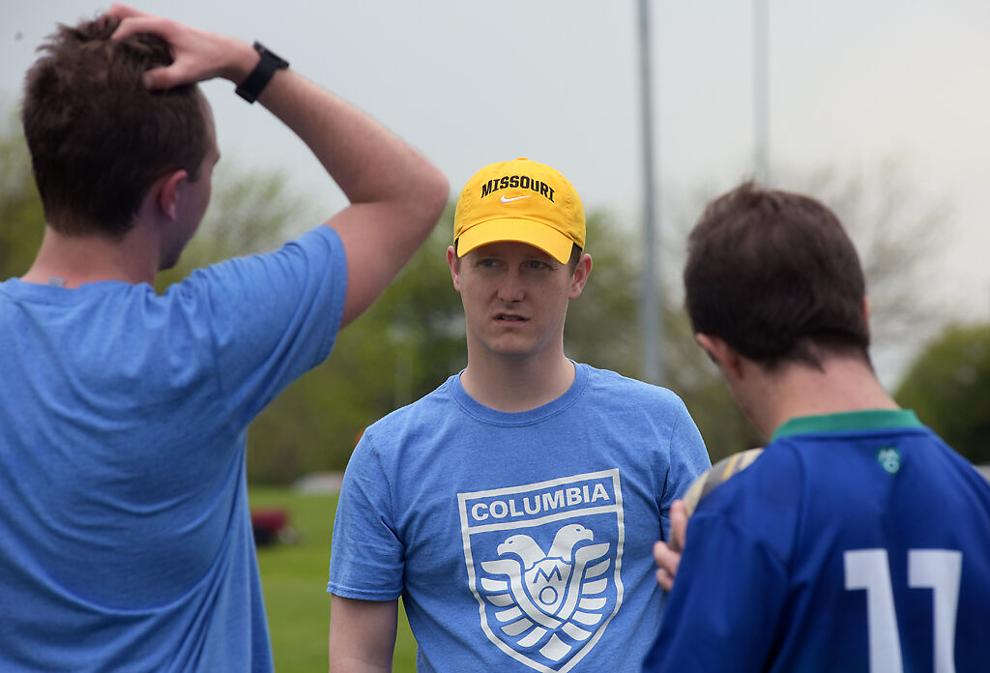 So AFC Columbia has had to get creative in its approach to building a network. Before the indoor team was even an idea, Fisher used the team's Twitter account to message local soccer fans and find people who might be interested in helping get the club going.
In May 2020, the team entered its first jersey in a Twitter contest sponsored by British soccer site Fantasy Football Scout. @AFCColumbia only had about 100 Twitter followers at the time, and Fisher said the kit competed against clubs with thousands of followers. AFCC's jersey made it all the way to the final before finishing in second place.
Fantasy Football Scout sponsored an AFCC kit, and when the jerseys went on sale in June, proceeds went to the National Health Service in the U.K. Fisher said the team sold more kits abroad than it did in the States. Even now, a large contingent of the club's Twitter followers are from England.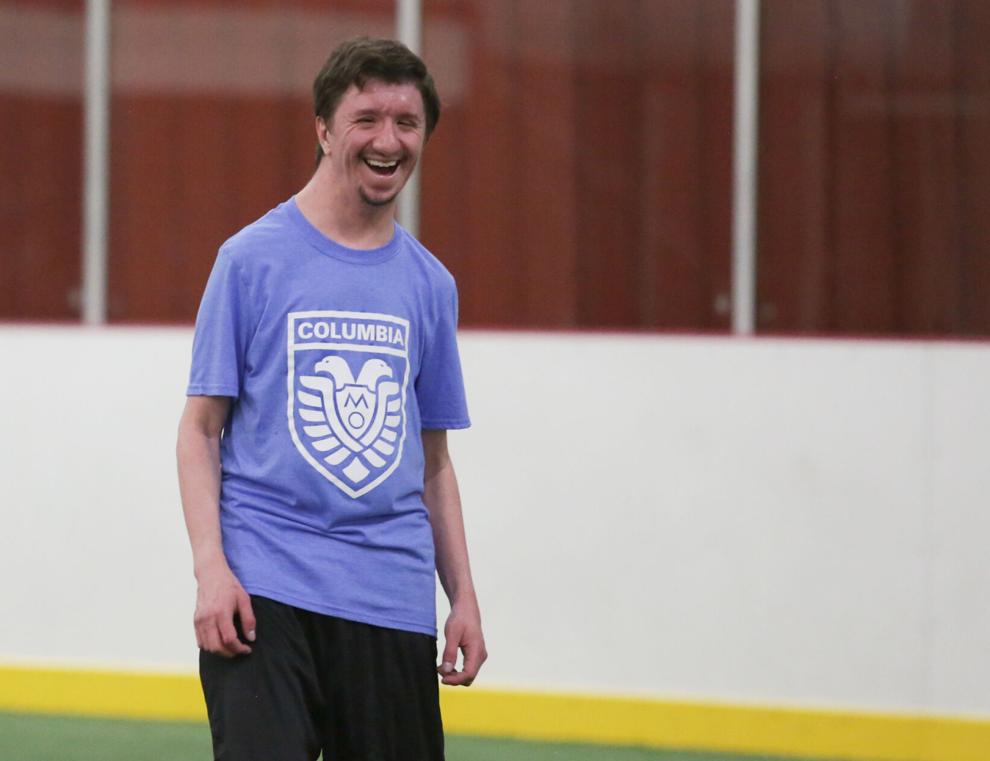 But Fisher's dreams for the club go beyond tweets and followers.
In the immediate future, AFC Columbia will play the CPISL season, which kicks off May 16. But over the next few months, the club plans to join a regional league, hire a coach and select a home field. Eventually, Fisher wants to field three squads: one at the top in a regional league, another to continue in a local outdoor league like the CPISL and a small indoor team. He would love to add women's teams, too.
To do all of this, the club needs sponsors, and to get sponsors, it needs community support. One more role for Fisher to add to his long list of club duties: fundraiser.
The team recently announced a sponsorship deal with local energy service company EnergyLink and is looking to add more partners in the future. The club is a registered Missouri nonprofit and is working on applying for national nonprofit status. Fisher said he estimates it can cost about $40,000 to fund a team like AFCC, and a portion of that will have to come from local businesses. It's a tough task, but Fisher believes the local passion for soccer will draw in sponsors and fans alike.
"If you're here in Columbia, if you want to watch a game, you're not going to watch it in Columbia," he said. "You're going to have to pay a lot of money to go watch Sporting KC or the new St. Louis club. So if we just say, 'Stay here in Columbia, watch a game for five or 10 bucks, support a local team,' and have that capability to play soccer and stay local, then we're doing our job."