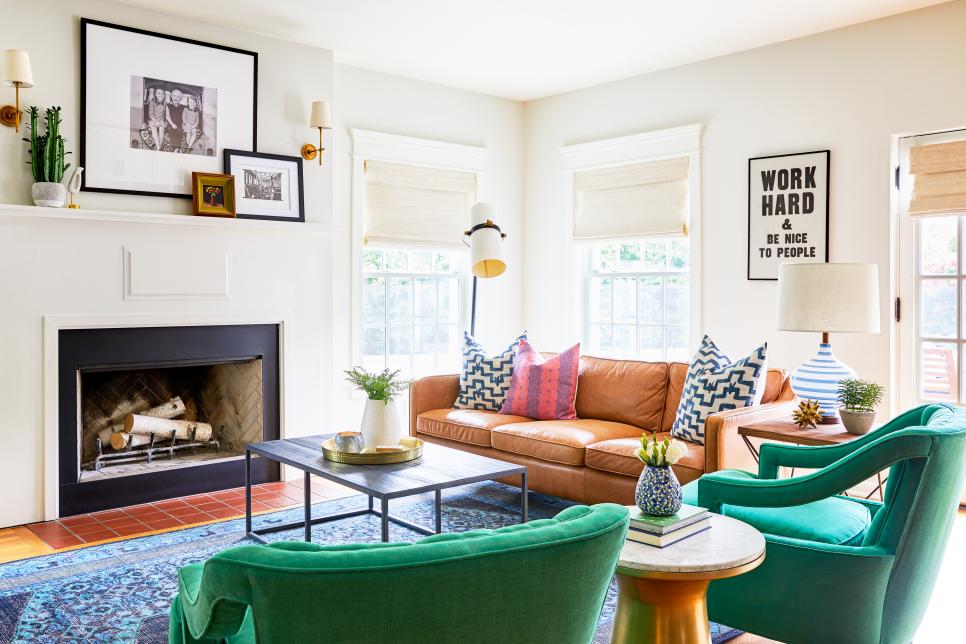 It is no secret that colours have the power to transform a dull space into a space that feels lively and energetic. Though neutral homes are timeless, sometimes they may seem too sombre and lifeless. By adding pops of colours throughout your space, you can create a space that is warm, inviting and inspiring.
If you have always had neutral hues in your home and want to finally add some colours to your space, then there is no time like the beginning of a new year to do so. However, adding the right amount of colour to your home can be tricky as it is easy to overdo it and make your home look tacky. Hence, we have come to your rescue by letting you in on 9 creative and fun ways in which you can add colours to your space.
Look around
A great way to pick a room colour is to look around and choose colours from the existing furniture, throws, rugs and artwork. Narrow down a few colours which are of the same shade or ones which complement them and use them on the walls.
Decorate vertically
An easy hack that your interior designers will never tell you is to go dark to light as you decorate your space vertically. Choose a dark hue for your floors, a medium shade for your walls and an even lighter hue for your ceiling.
Use the colour throughout
One way of introducing colours in your space is to pick a colour and use it in different parts of the house in different proportions. You can use a room colour for all the walls in a room and then use the same colour as an accent wall in another room.
Start with lighter hues
People who are intimidated by colours can incorporate colours into their space by picking lighter hues like lilac, pale yellow, sage green, mint and peach. These colours are subtle and almost act as neutral colours. A pro tip is to find colours that make you happy and then choose the right intensity of these colours.
Get emotional with colours
Every colour invokes a feeling and an emotion. By understanding colour psychology, you can create the right mood for a room. While bold room colours like yellow and orange are great for your living room and dining space, calming colours like blues and greens are ideal for your bedroom space. So, keep in mind the functionality of a room before you decide on a colour for it.
Know how the light affects a colour
Once you have finalised your colours, go to the market and buy testers of these colours. Swatch them discreetly on your walls and observe them at different times of the day, both in natural and artificial light.
Paint a feature wall
Feature or accent walls are a great way to elegantly add colour to your space. You can spruce up a neutral room by picking an accent wall and decorating it with a statement paint colour.
Use colourful accessories
Who says you can only add colour to a space through paint? Get creative and add fresh blooms, indoor plants, vibrant rugs, artwork and pillows to make your space seem bright and joyful. An affordable way to add colour to your space is to buy quirky linens, throws and quilts for your room. You can also consider painting the furniture of your home to give them an artistic look.
Make your ceiling the showstopper
If you are sceptical about painting all the walls with bright paint colors, then you can consider painting just the ceiling with a statement colour. This is a unique way to add a pop of colour to your room and would undoubtedly grab the attention of your guests.
Still confused about which colour to choose for your home? Fret not, visit the Asian Paints website and seek help from their experts who will take care of everything right from picking the hues, planning to the execution.